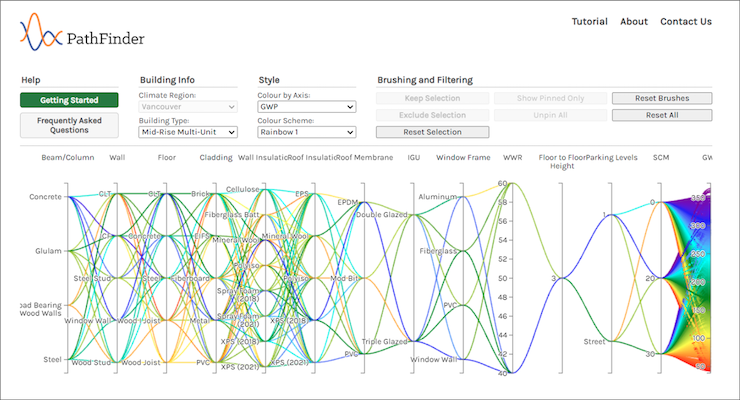 Embodied Carbon PathFinder by Morrison Hershfield (MH) is a free web application that allows users to visualize the embodied carbon implications of different designs and material selections for three types of typical Vancouver multi-unit residential buildings (MURBs) : stacked townhouses, mid-rise and high-rise buildings. -increase, as the construction industry aims for net-zero goals.
Complementing the Operational Energy PathFinder, which helps users test building design scenarios for operational energy and emissions, the new Life Cycle Assessment (LCA) tool can create rough estimates in early design phases when a custom study may not yet be feasible. By using the two tools together, designers can more quickly understand and, by switching variables, minimize the total carbon footprint of an MURB, from manufacturing and transporting building materials and assemblies to construction, the exploitation and disposal.
The LCA model for each MURB archetype includes the complete structure and building envelope above and below ground level, all glazing systems, gypsum board inside exterior walls and the parking garage. This excludes ceiling or floor coverings, finishing materials, paint, interior walls, mechanical and electrical systems and site components.
MH developed the data for the tool using the Athena Impact Estimator for Buildings, while Open Technologies programmed the visualization software and developed the user interface (UI). The BC and Vancouver governments have provided funding.
There will be a live demo of the app on October 25 at 1 p.m. ET. Register here.