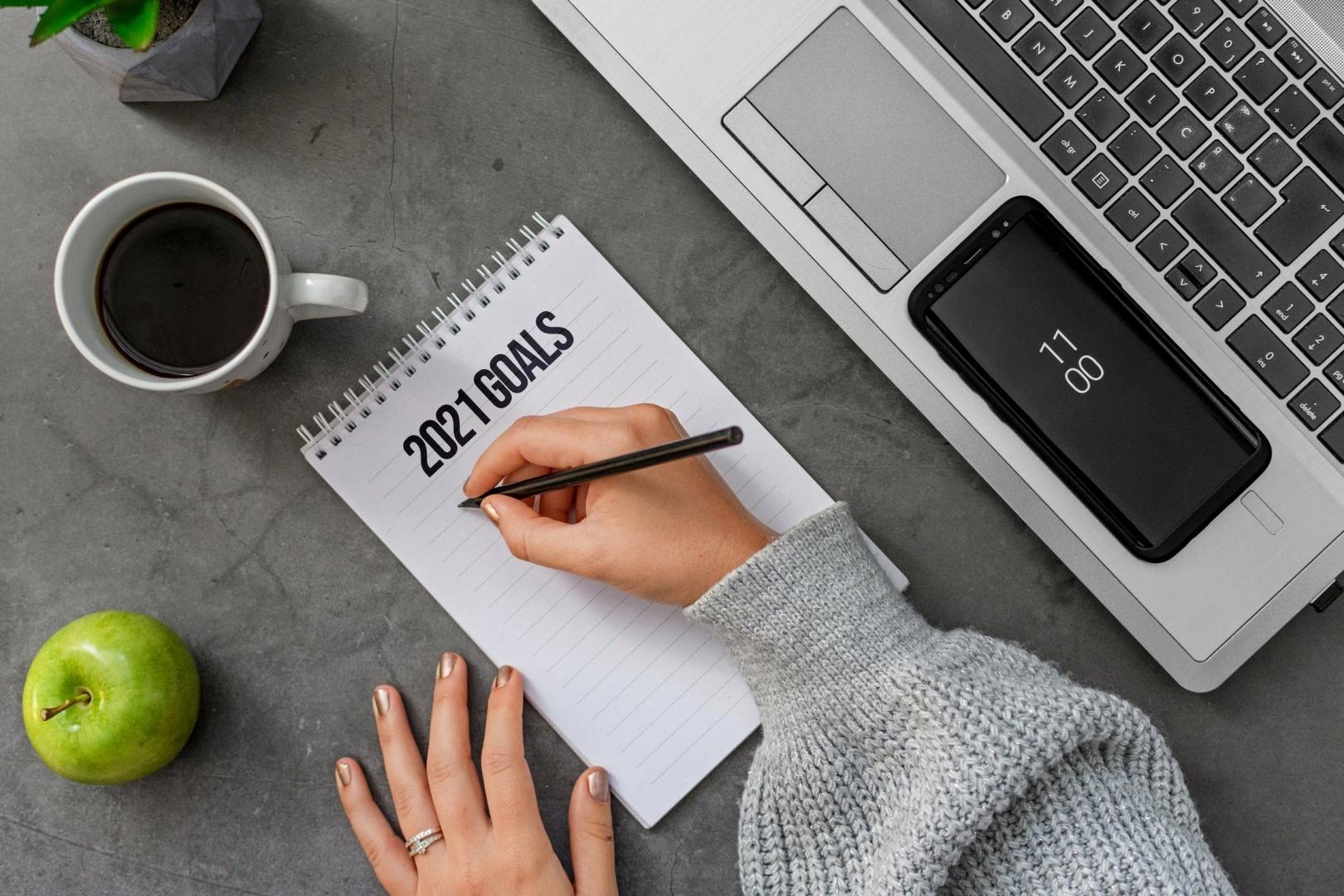 The appearance of a website plays an important role in any business, whether large or small.
Your business website interacts with prospects on your behalf. This is the reason why people judge the credibility of your business by design. When designing your website, keep in mind that your website needs to be well equipped to provide a good user experience. Good layout, images, and typography matter more than we usually think.
A Stanford study found that people quickly rate a site by visual design alone. In short, the design of your website:
Gives a good first impression
Builds credibility
Project Authority
Proves legitimacy
Showcases your know-how
Building a website from scratch can be a daunting task. When you run out of ideas, take inspiration from others. Make him your muse. When you look at the work of others, you get a new perception of looking at things that might have been missing in your own work. In addition, you follow the latest trends.
In this article, you will find places to search for the best website designs in the world. There is a tremendous amount of resources available on the Internet for inspiration. But it can be overwhelming. So, without further ado, check out a concise list of the five best website designs to find inspiration for your ideas.
1. Awwwards.com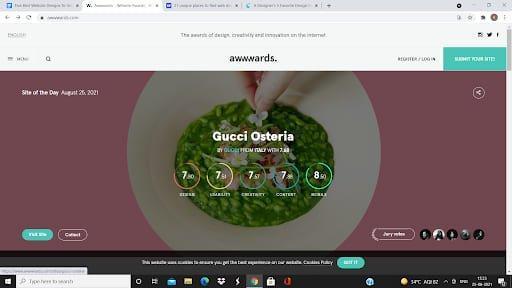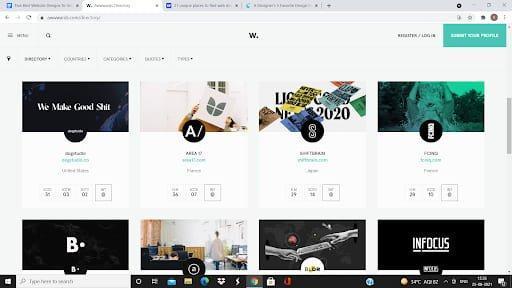 Awards features website designs by freelancers, agencies and studios. It has many filters to narrow your search to your specific needs. Awwwards assembled a jury of web experts to reward the best deserving works on the basis of their design, usability, creativity, content and mobile friendliness. Submitted works receive ratings and the "site of the day" arrives on the home page. This makes it easy to find the best website design examples on Awwwards. They also ranked the websites among the most awarded profiles. You can even check out the works of their nominees.
2. Dribble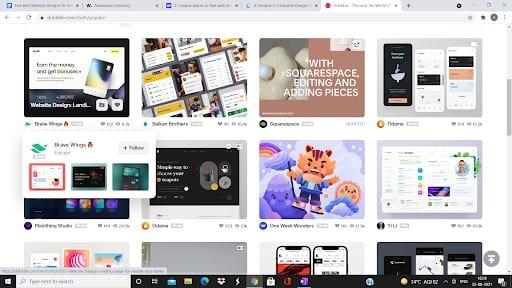 Dribble is home to the best professionals in web design. Here you will find plenty of website templates for your inspiration. By the way, dribbling isn't just limited to website designs. It has a great resource of print designs, product designs and typography as well as web design. The best thing about dribbling is that it doesn't allow everyone to post their work on their website. Only a selected number of people who receive an invitation can submit their work. So take a look at dribbling for some quality assured inspiration.
3. Abdouzeedo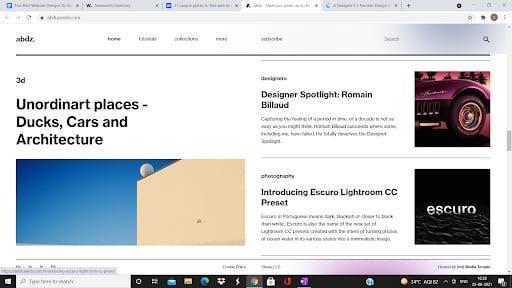 Abduzeedo is a community of individual writers who regularly share their ideas related to photography, design and UX. It's your one-stop destination for daily design and UX tutorials. Abduzeedo educates on all subjects related to design, be it architecture or photography. This increases the horizon of your inspiration and you get to know the latest trends in web design.
4. Behance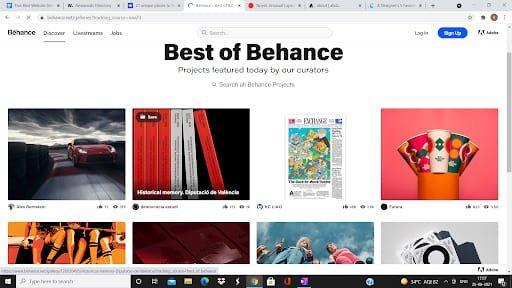 Behance is a large and diverse community of designers who are very active in making their contribution to the world of design. You will be immensely inspired by the diverse range of models available on the Behance discovery page. Not only that, but there are so many filters at work to make your search very specific. Since Behance is part of Adobe, you can choose websites designed using various Adobe tools. There are so many options in the creative fields to choose from. Behance offers unique website designs to fuel your inspiration.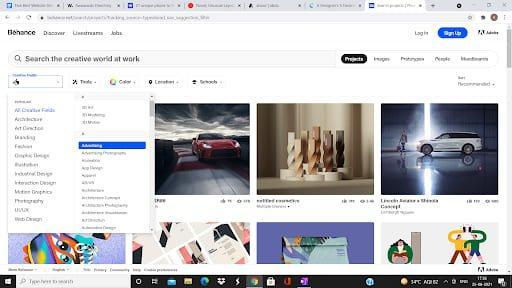 5. Siteinspire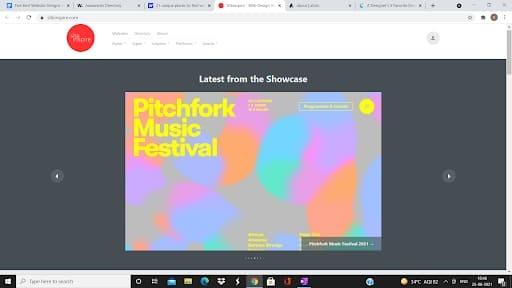 Siteinspire has a huge collection of websites to choose from. If you have a clear idea of ​​how you want your website to look, Siteinspire's multiple tagging will help you find the closest idea. It is best to research specific ideas related to the industry.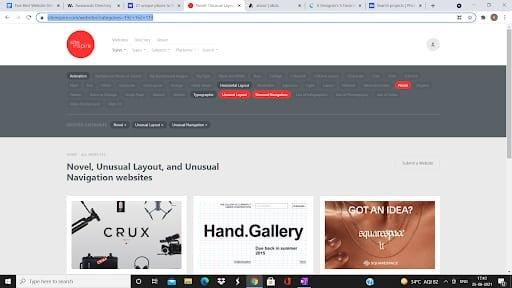 Siteinspire has several categories to refine the style search. If you are confused and looking for a diverse idea, then categories like "unusual layout", "unusual navigation" can give you random ideas to increase the scope of inspiration.
Conclusion
You can also take inspiration from Pinterest and Instagram website design pages. We all came across this quote: "your limitation is only your imagination". So there should be no limit to your imagination. Your website is the most important sales tool, so be patient with your website design to generate higher ROI.