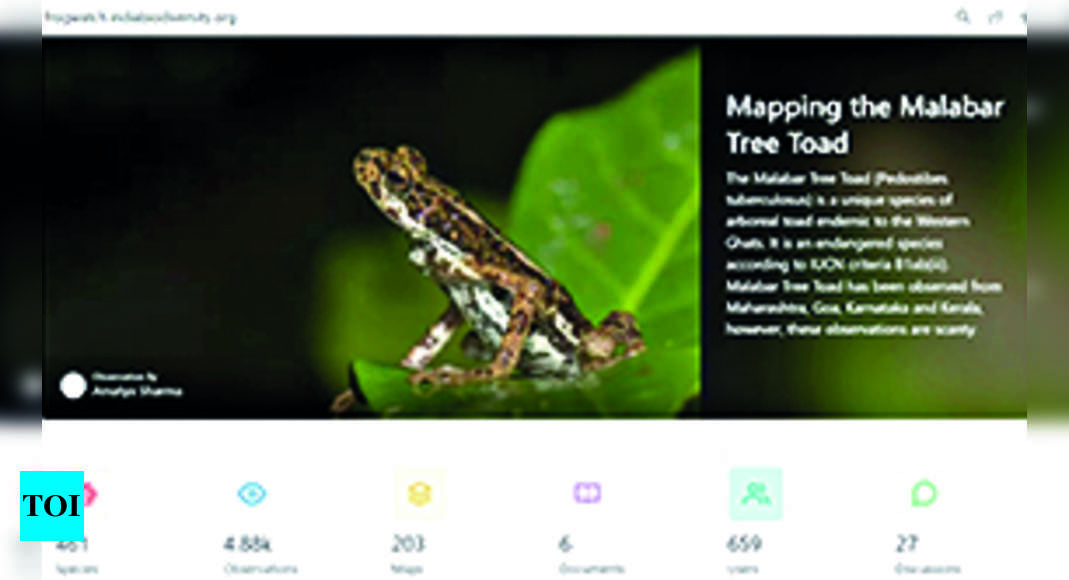 Mangaluru: As part of the Mapping the Malabar Tree Toad, a species endemic to the Western Ghats, and to promote citizen science, researchers are promoting the use of the Progressive Web Application (PWA)—Frog Watch. So far, 4,863 sightings have been recorded, and each time a frog workshop takes place there is a spike in sightings.
Providing details, Batrachologist Gururaja KV from Srishti Manipal Institute of Art, Design and Technology, Bengaluru said the Frog Watch app was officially launched during the workshop held at Mannapapu Mane, Karkala last month. He said the app aims to map amphibians across India, based on photographs, call recordings and videos used by citizen scientists and naturalists.
It is an easy to use application of Indian Biodiversity Portal which has a team of experts who constantly monitor and help the user to identify and map species.
"The idea is to encourage citizen science. Many people take pictures, but don't know what to do next. By helping them to identify species, it is an attempt to awaken interest in biodiversity among the masses. In a larger context, when people fill in information, it helps to understand the distribution, ecology, and threats a species faces. There is a "help identify" checkbox and a team of experts will respond to these messages. The app has over 20 features. There is also the geo-privacy option, to hide the exact locality of the species. The exact location is only shared for those who log into the app with details," Gururaja said.
More than 100 people have contributed observations to the Malabar Tree Toad Project. The app was developed by a team led by Prabhakar and Thomas Vattakaven of India's Biodiversity Portal. This is part of collaborative research between Ravi Chellam from the Metastring Foundation, Harikrishna from the Center for Ecological Sciences and Gururaja KV. It is funded by The Habitats Trust grant. "The biggest advantage is that the features are far more numerous than other biodiversity apps and are licensed under Creative Commons, probably the first of its kind in India," Gururaja said.